Help return your body to optimal health, without depriving yourself of the nutrients you need. On the Ultimate Reset,
you'll eat—and feel—maybe better than you have in years.*
In just 21 days you should notice more energy and focus, better digestion, and a significantly more positive mood. Your body's systems should function more efficiently, helping you lose weight and feel an improvement in your overall health.*
In three gentle phases, the Ultimate Reset takes you through the natural steps needed to help your body Reclaim and rebalance itself, Release harmful toxic compounds that may be stored within, and Restore your system to its maximum health.*
The Beachbody Ultimate Reset
is NOT a typical cleanse
No starvation diets. No harsh laxatives. No running back and forth to the bathroom all day long. The Beachbody Ultimate Reset doesn't punish or deprive your body—it feeds your body with all the nutrients you've been craving.
"...you'll have more energy and greater
focus, experience better
digestion and a more
positive mood..."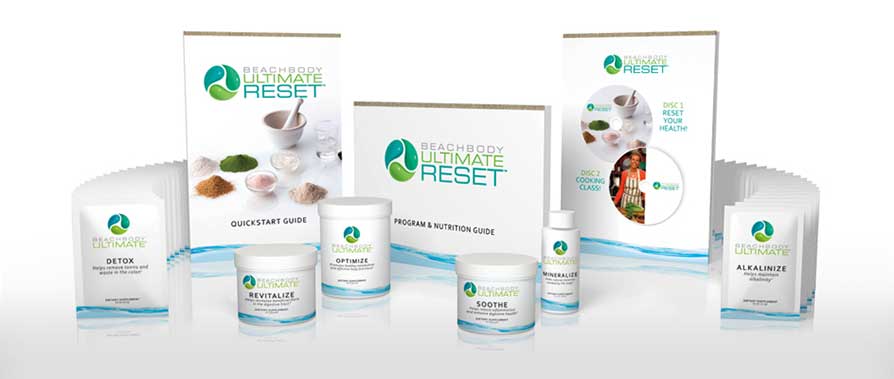 What you get:
Six essential supplements
Chosen and refined from sources around the world: Detox, Alkalinize, Oxygenize, Mineralize, Optimize, and Revitalize—just what your body needs for an Ultimate Reset.*
One-on-one support
from your Team Beachbody coach and online from other team members 24 hours a day, 7 days a week.
Two DVDs
How to Reset walks you through the steps it'll take to help you get started on the program, plus the Beachbody Ultimate Reset Cooking Class!, a video guide to preparing healthy Ultimate Reset recipes.
Beachbody Ultimate Reset Program & Nutrition Guide book,
which includes in-depth advice and information on the program, plus a 21-day eating plan with recipes, cooking tips, shopping lists, and more.
"Cleanse Caddy" travel pouch,
which makes it easy to keep your supplements at your fingertips wherever you travel.
The Reset Bracelet
to wear throughout the program to remind you of your dedication to resetting your body and your life.
The three phases of the Beachbody Ultimate Reset:
Reclaim
Phase One helps you balance your body's inner chemistry and prepare it for positive change.*
Release
Phase Two helps you clear away the toxic materials that may be clogging your cells and polluting your tissues.*
Restore
Phase Three helps you tune your metabolism to maximum efficiency, while helping support your body to maintain future healthy performance.
*These statements have not been evaluated by the Food and Drug Administration. These products are not intended to diagnose, treat, cure, or prevent any disease.
Ultimate Reset Success Stories
My cholesterol was 237 before I started the program and now it's 162. A 75 point drop! I feel like I hit the lottery! -- Luisa R.
I feel fantastic! I was tired and sluggish most of the time prior to using Ultimate Reset. Now I have an incredible amount of energy. More energy than I've had in years. -- Patricia K.
I lost thirty-one pounds in three weeks with Ultimate Reset. Incredible! I've never lost that amount of weight in such a short time, doing anything. I never felt hungry. -- Keith H.
Ultimate Reset FAQs
Will I be hungry all the time during the Ultimate Reset?
No. You'll eat three healthy, satisfying meals every day. Most participants found the meals provided them with plenty of food. Just in case, though, we also give you a list of tasty snacks you can eat while still maintaining your Reset.
What's the difference between the Ultimate Reset and most cleanses on the market?
During the Ultimate Reset, you'll eat three healthy, satisfying meals every day and take supplements. You won't starve, drink only juice, or eat only meal replacements. You'll become familiar with delicious new foods and recipes that will help you maintain your health gains beyond these 21 days. In other words, the Reset isn't a quick fix. It's a path to real, long-term change.
Will I lose weight on the Ultimate Reset?
Probably. Most Reset participants have lost weight. However, they're even more excited to have acquired new, healthy habits and released unhealthy ones. They've eliminated cravings for sugar and caffeine, learned delicious ways to prepare fruits and vegetables, and grown more aware of how different foods affect their moods and energy levels, making it easier for them to continue eating healthily.
Can I work out during my Ultimate Reset?
No, for the 21 days of the Ultimate Reset, we suggest you refrain from strenuous exercise. The Reset is already giving your body a serious internal workout. After your Reset, you'll be ready to resume your Beachbody workout program and benefit even more from your efforts.
I'm on medication. Can I do the Reset?
Check with your physician before beginning the Reset to make sure that it won't react negatively with any medication you're taking.
I'm pregnant. Can I do the Ultimate Reset?
No. Your body's systems are already working hard. Wait to do the Reset another time.
What if I have questions, or need help understanding something in the Reset?
Don't worry! You'll have the support and guidance of your Coach every step of the way. And because your Coach has already completed the Reset, she'll know how to answer your questions from experience.