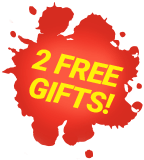 Want To Slim Down Faster While You Step Up Your Dance Skills?
Get ready for 4 more weeks of dancing and melting away the pounds with the CIZE™ Deluxe Weight Loss Series. These next‑level dance courses and weight loss tools will help you get a sexy, slim, and toned body fast. Plus, get 2 FREE gifts!

CIZE IT UP for just 3 monthly payments of
$19.95 (+$12.95 s&h)
Or select a single payment option during checkout.
30-Day Money-Back Guarantee (less s&h).