To order by phone, call toll free: 1 (800) 207-0420, Mon-Fri 9 AM-7 PM, Sat-Sun 10 AM-6 PM ET
Get Real With Shaun T™
Get Ready to Get Moving,
Get Down, and GET REAL
with Shaun T's brand-new workout designed for young people of every shape, size, and fitness level. Whether you have a few pounds to lose or just want to look better for that hottie in homeroom, Shaun's got you covered.
A $50.00 value for just $19.95 (+$4.95 s&h) 30-Day Money-Back Guarantee (less s&h)
Get In Great Shape with Shaun's Targeted Workouts!
These 2 healthy and energizing routines focus on cardio and strength training so you burn calories and build muscles; to help you build a lean, healthy body; and to give you the energy you need to juggle family, friends, school, and all the other stuff that you've got going on. Oh, yeah, and BTW . . . it's actually fun!
Cardio. Get your body moving with this nonstop fast and fun workout! After a quick warm-up, you'll be moving, sweating, and burning calories. Lots of variations for different fitness levels, and great music, too! (23 minutes)
Strength. This strength and conditioning workout will give you strong muscles and a leaner, healthier body. Improve your strength, speed, balance, and agility with these easy-to-follow moves. (27 minutes)
Plus 3 FREE Bonuses!
Healthy snack ideas for when you're on the go!
Handy guide to reading nutrition labels.
Wall calendar to keep track of your fitness and eating goals.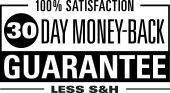 Plus Shaun T's 30-DAY MONEY-BACK GUARANTEE!
How real is this? If you're not satisfied with your product FOR ANY REASON, simply call Customer Service for a Return Authorization number to return the program within 30 days for the full purchase price, less shipping and handling, no questions asked. Just click YES below now to try this program with Shaun's 30-Day Money-Back Guarantee.
A $50.00 value for just $19.95 (+$4.95 s&h) 30-Day Money-Back Guarantee (less s&h)
Consult your physician before beginning any exercise program.