New P90X3® Orders Get:
Free Fitness Guide
Free Nutrition Pan
Free Workout Calendar
Free Upgrade to Express Shipping
Money Back Guarantee for 90 Days
All-New Workouts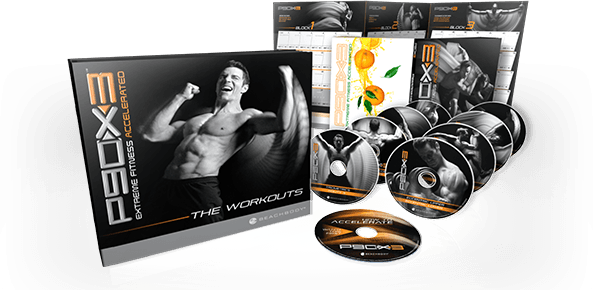 Watch the P90X3 WORKOUT
Here's why I created P90X3
Hour-long workouts aren't for everyone. I get it...you've got commitments. You've got a life. You don't live in a gym. So working out for an hour every day? Well, for a lot of people...that just ain't gonna happen.
But what if you could work out for just 30 minutes a day,
and still get the kind of extreme results like the ones you see below. Sound good to you?
X3 is a total breakthrough.
It's not a sequel to P90X (or anything else). It's an all-new program of super-efficient workouts, each one packed with 30 minutes of concentrated intensity.
We tested it. And we were shocked.
We put together a test group—people of all different ages and fitness levels—and asked them to follow the P90X3 program for 90 days. Incredibly, they lost more than a third of their body fat, on average!
LOST
20 LBS.
"You don't need to spend a lot of time, and I'm a testament.
This is 30 minutes a day for 3 months."
—Victor M., Age: 38
DAY 1
DAY 90†
LOST
30 LBS.
"I spent a decade getting out of shape, and 3 months to get in better
shape than I've ever been in. And the workouts were only 30 minutes."
—Christine V., Age: 33
DAY 1
DAY 90†
Not everybody in the test group was out to lose weight. In fact, Jeremy was able to pack on serious muscle in just 30 minutes a day with P90X3.
GAINED
18 LBS.
LEAN MASS
"My abs are popping like never before. My biceps are popping.
With X3, the work is hard, but finding the time in your day is easy."
Jeremy R., Age: 29
DAY 1
DAY 90†
"And they weren't alone..."
After 90 days of P90X3, the entire test group lost an average of over
34% of their body fat. That's solid proof that you can get ripped in
30 minutes a day.
"P90X3 ISN'T HALF A WORKOUT...
IT'S A WHOLE WORKOUT IN HALF THE TIME."
—TONY HORTON
P90X3 TRAINER
"I used to think...the longer you work out, the better results you'll get. Turns out, it doesn't work that way. In fact, the latest science says that most of your progress happens in the first 30 minutes of your workout. After that, your body responds to the exercise less and less. So the trick is to get the absolute most out of that 30-minute 'window of change.'


That's where P90X3 kicks in. Its Muscle Acceleration system maximizes those first 30 minutes with a concentrated blast of variety and intensity. You won't get off easy...but you will finish faster. And believe me, after 90 days, you will be ripped."
"P90X3 gets you the best possible results from
30 minutes of exercise."
Want to get toned without bulking up?
Check out Jen—she stuck with the X3
"Lean Schedule" and got great results.
LOST
24 LBS.
"I used to work out for 2 hours every single day, and I never had
this body I got in 30 minutes a day with X3."
—Jennifer G., Age: 30
DAY 1
DAY 90†
There are three
different approaches in P90X3:
1. Classic: get ripped and strong.
2. Lean: tone without adding bulk.
3. Mass: increase muscle mass.
No dull cardio. No standing
around in the gym waiting for the exercise machine.
With P90X3, you can jump right in and rock and roll for 30 minutes straight—whether or not you've completed any other exercise program. One day, you're doing total-body resistance, then Pilates, plyometrics, yoga, agility, mobility, mixed martial arts. That's variety. That's how you keep the Muscle Acceleration going. That's how you get extreme results in 30 minutes a day.
Not sure if P90X3 is for you?
LOST
68 LBS.
"When I started the program, I was 240 lbs. I always knew I had to do something to
make a change in my life. 30-minute workouts really work for me because in my head
it's not such a big task. After 90 days, I lost 43 lbs. I did a second round of P90X3 and
wound up losing another 25 lbs. THE X3 EXPERIENCE HAS BEEN
TRANSFORMATIONAL FOR ME—INSIDE AND OUT."
—Ed M., Age:36
BEFORE
AFTER†
WHAT DO YOU GET?
Everything you need to get ripped in 30 minutes a day—including 16 ALL—NEW Intense P90X3 Workouts.
6 Muscle-Building Resistance Workouts:
Total Synergistics to trigger fast changes to your body's composition.
The Challenge adds serious strength to your entire upper body.
Incinerator is a full burnout session that pushes you way past your limits.
The Warrior is a do-anywhere, do-anytime body-pumping drill.
Eccentric Upper creates lean muscle growth with time under tension.
Eccentric Lower is the fast way to carve a ripped lower body.
3 Cross-Training Power Workouts:
Agility X for improved precision, flexibility, balance, and strength.
Triometrics is next-generation plyo to boost your speed and power.
Decelerator for powerful, muscle-defining stability training.
3 Fat-Burning Cardio Workouts:
CVX is resistance-plus-intervals for a full-body burn.
MMX incinerates fat with a martial-arts based cardio routine.
Accelerator to maximize your cardiovascular and muscular efficiency.
4 Core, Flexibility, & Balance Workouts:
X3 Yoga to improve your musculoskeletal flexibility, balance, and core strength.
Pilates X for a powerful core, muscle elasticity, and joint stability.
Isometrix is instability-plus-isometric contraction to build a rock solid platform.
Dynamix to increase your range of motion and maximize your results from every routine.
SPECIAL
INTRODUCTORY
OFFER
Choose your
P90X3

kit here
Plus, Order Now and for a Limited Time,

Get 5 bonus gifts—free!
Bonus gift #1:

Fitness Guide


Your step-by-step guide to getting the most out of Tony's accelerated extreme fitness program.
Bonus gift #2:

Nutrition Guide


A simplified approach to eating that you can customize and adapt to your fitness goals. It's designed to help you get the body you want—and keep it that way.
Bonus gift #3:

P90X3 Workout Calendar


Tony gives you each day's workout, so all you have to do is get in—and crush it.
Bonus gift #4:

"How to Accelerate" DVD


This easy-to-follow P90X3 intro shows you how to achieve your best results in the fastest time.
Bonus gift #5:

24/7 Online Support


Stay motivated with exclusive 'round-the-clock access to fitness experts and peer support.
Finish 90 days of P90X3...
and earn this free shirt.
Send in your "before" and "after" photos, and we'll send you this FREE shirt. You can't buy it. It's only for you when you finish the program.
See details
You get one more
bonus gift!
Don't wait 2-3 weeks for delivery
Free upgrade to
express delivery!
A $15.00 value!
Why wait a minute longer to start getting ripped in 30 minutes a day! Order now, and we'll see to it that you receive your P90X3 shipment within just 3 to 6 business days!*
Add it up...
We're talking about
worth of
workouts and training tools.
For only 3 monthly payments of
$39.95 (+s&h)!
Just 3 monthly payments of $39.95 (+$19.95 s&h)
Or select a single payment option during checkout.
LOST
19 LBS.
"It's only 30 minutes, right? Everyone has 30 minutes. So work hard and
then you're done."
—Scott P., Age:40
DAY 1
DAY 90†
A Note from Tony
Look, I know it's not easy to commit to changing your body and your life. And I can't make that decision for you. But what I can do is promise that if you stick with me, you will see dramatic physical change using P90X3 for half an hour for the next 90 days. And here's the really good news—that first step, the one you're taking right now, is harder than anything you'll have to do after. From here on in, all you have to do is keep showing up, and we'll make sure you get to the finish line.
P90X3 comes with an extended
90-Day Money-Back Guarantee.
When you order today, we're going to extend our standard, 30-day money-back guarantee to a full 90 days. Think about that. You not only get to try P90X3, you get to actually finish the program before committing to pay for it! And if you're not 100% happy with the results, you can send it back for a full refund of the purchase price, less shipping and handling. You get all the reward, without any of the risk.
Send me the complete P90X3 kit,
including my 5 FREE gifts, all for
3 easy monthly payments of only $39.95 (plus s&h).
I understand that P90X3 comes with a
90-Day Money-Back Guarantee.
Just 3 monthly payments of $39.95 (+$19.95 s&h)
Or select a single payment option during checkout.
"WITH P90X3 YOU WON'T GET OFF EASY.
YOU'LL JUST FINISH FASTER!"
—Tony