Are You
Ready to Get
Obsessed?
80 Day Obsession™
is available exclusively on
Beachbody® On Demand. Try it Free for 14 days! *As Seen on The TODAY Show
View Plans
What is
80 Day
Obsession?
It's how you sculpt flat abs AND shape a higher, firmer butt—both at the same time—in a single, breakthrough program from super trainer Autumn Calabrese. She matches 80 totally unique daily workouts—each one designed to build on the day before—with a daily eating plan customized to your goals. The result? 80 Day Obsession helps you burn fat and carve lean, sexy muscle like no program you've tried before!
80 Day
Program
Intermediate/
Advanced Level
30-60 Minute
Workouts
Timed-Nutrition
Plan
Why It Works
A Different Workout
Every Day
80 days of unique workouts challenge your body and push your limits in totally new ways, so you're less likely to get stuck in a workout "plateau." That means you'll keep seeing results—day after day.
Timed-Nutrition
Eating Plan
When you eat is just as important as what you eat when it comes to getting the best results possible. With 80 Day Obsession, you'll learn how to time your meals to help maximize energy, healthy fat loss, muscle recovery, and growth.
80 Day Obsession Results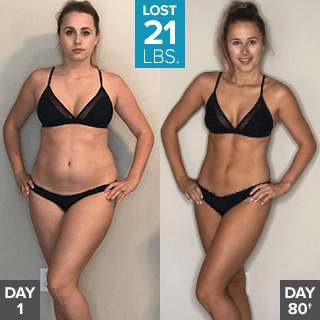 I never thought I could stick to a program 100% for 80 days, but I proved myself wrong and there is no better feeling. My confidence is back and I have a body I never thought I could achieve. Mentally I feel strong and capable of anything.

-Emily F
†Results vary based on starting point and effort. Results achieved using 80 Day Obsession and Beachbody supplements. Emily is an independent Beachbody Coach.
Your Proven Solution for Achieving Results
80 Day Obsession is just one of the fitness and nutrition solutions available through your membership in Beachbody On Demand—a world-class destination for the best in fitness, nutrition, and support. You can stream all of Autumn's innovative programs, like 21 Day Fix®, Country Heat®, The Master's Hammer and Chisel®, plus hundreds more Beachbody workouts, including PiYo®, P90X®, INSANITY®, and more!

You can even stream Autumn's very own portion-control cooking show, FIXATE®, to help make sure losing weight is as simple and delicious as possible.
Find the Perfect Program to Reach Your Goals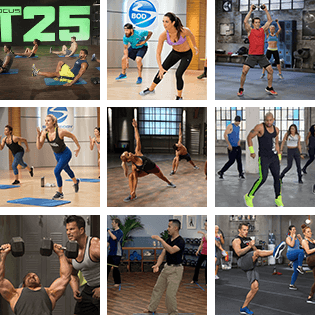 Yoga, cardio, dance, strength training, and more—no matter your current level of fitness, whether you want to torch calories, or build muscle, our workout programs can deliver the results you're looking for.
View Plans
Not just the workouts—everything you need to get fit and stay fit.
With Beachbody On Demand, you get all the tools, guidance, and motivation to help you reach your fitness goals.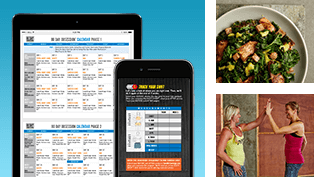 Fitness Guides & Calendars

Step-by-step guides, including workout calendars, to help you get the most out of Beachbody fitness programs

Meal Plans & Recipes

Nutritional guidance that tells you exactly what to eat to get optimum results

Community Support

Stay inspired, motivated, and on-track with support from our active online community*
*Your contact information will be made available to your free Coach, who may reach out to you with one-on-one support.
Stream Workouts on Your Favorite Device
On Your TV

Apple TV®, Chromecast®, Roku®, Amazon Fire®

On Your Computer

PC or Laptop

On Mobile / Tablet

iPhone®, iPad®, Android®
Your Obsession
Starts Here
Join Beachbody On Demand Today FREE for 14 Days!
View Plans