The most durable pull-up bar ever made!
Built for durability and comfort, this is the ultimate muscle fitness training tool to strengthen and develop your shoulders, back, arms, and abs, and more. There's no better way to take your upper-body workout to the next level.
The P90X® Chin-Up Bar mounts easily to any doorframe to become your own personal gym. The custom design with 12 grip positions makes this the perfect tool for chin-ups and pull-ups.
Special features include:
Custom design with multiple grip positions for building multiple muscle groups
Heavy-gauge steel (holds up to 300 lbs.) Stress Test Video
Professional-grade foam-covered handles provide maximum comfort for extended use
Quick and easy assembly
Fits doorways up to 32" wide (sturdy doorframe with trim required—minimum 5" width, maximum 6.5")
Takes only minutes to safely remove from doorway when not in use
P90X Chin-Up Bar for only $59.85
(+$14.95 s&h)
P90X Chin-Up Bar Customer Reviews
Rated

3.2

out of

5

 by

84

reviewers.
Rated

1

out of

5
 by
The Truth
too expensive & waste of money
too expensive and really a waste of money there ARE OTHER CHIN UP/PULL UP BARS EXACTLY THE SAME BUT WAY CHEAPER IN COST AND PROBABLY MORE DURABLE
May 18, 2012
Rated

1

out of

5
 by
Connor
Not worth it
There are so many down sides to this. I was excited to start using it, but was disappointed when I tried to install it. Takes a while to assemble, and does not fit in most doorways. Also, you have to drill screws into your doorway. Unless you are willing to destroy the framework of your house, stay away from this. Waste of money.
April 22, 2012
Rated

3

out of

5
 by
gspiker
It works fine, but...
The really wide handles on mine started to bend on the third use. I'm about 190 lbs, so I assume it would happen faster for anyone who is heavier. So I can't really do the really wide pull-ups on it, but it works for everything else just fine.
April 7, 2012
Rated

5

out of

5
 by
ColoradoMan
Did my research, used the product 1 Year+
I don't know what people expect for the money they are spending on these bars. But this bar took me through 3 rounds of P90X and it's graduating with me to P90X2 this week. I do a ton of research before buying anything and this bar performs MUCH better then it's current 3 star rating. It works great. I went from doing 2 (sort of) pullups before P90X, to doing 20+ by the end, either pullups or chinups. I weigh 235 lbs. I have sub par apmt doors. I have no problem with them. I would suggest however placing some sort of pad, maybe slide a sock over the ends that butt up against the door frame because otherwise you will eventually wear a mark on both sides of the door frame where it rests for support.
March 9, 2012
Rated

4

out of

5
 by
rccopp
The bar seems well constructed
The directions for assembly could be a little clearer. The biggest issue I had is that for the 13.75" between the hooks it hits directly behind the bar and the hook won't fit in. I had to extend it out further than recommended and hope that it holds.
February 23, 2012
Rated

1

out of

5
 by
Disappointed
Poor quality
I never got to the point of even trying to use it because the metal bolts strip in the plastic while tightening the screws. Very frustrating! I returned it and now I am on line looking for another pull up bar to purchase.
February 10, 2012
Rated

1

out of

5
 by
FXF3
Installation is very complicated, bad directions
When I first opened the box, the parts looked like they would be easy to put together. I was stupefied to find that the directions were a trifold pictogram. There was not a single word about how to install it. The guide does not emphasize that you MUST drill the door mounts into a Stud. Also, the door itself must open towards to workout area if you want to be able to see the TV while exercising. Overall, the bar is not worth the money.
February 7, 2012
Rated

4

out of

5
 by
leaflover
Two years and counting
My two sons and I have used the P90X chin up bar for more than two years. It has been reliable and we have never had any issues. We continue to use it and at this point I can't see ever having to replace it. It fits into a regular door frame in the basement so no issues for us there. I am not sure why it says it is used with Insanity on this site as we have all completed Insanity as well as P90X and it is NOT used with Insanity. Bottom line is that is has been functional and withstood constant use for a number of years!
December 27, 2011
Rated

4

out of

5
 by
Getson
Good but...
It's the same thing I've read from everyone else -- doesn't fit all doorways. It's a great product if you have the right door. I've had to add a piece of steel to allow it to hang at the right height in the doorways of two different homes now. With that mod, it works perfectly. Beachbody should seriously consider adding an adjustable extension to the upper support bar to allow it to fit a larger range of doorways. I'd attach a picture for the review, but I'm at work right now. The width of the whole bar is also subject to different doorways. It works best if the outside of the door has no trim, otherwise, it might not fit perfectly and could be uneven.
November 21, 2011
Rated

1

out of

5
 by
Isaac
Terrible Quality - Do NOT buy this pull-up bar
I apologise for being hyperbolic, but this is an inferior product. It is made cheaply and it shows. There is no way there was any quality control done on this product. The main problem with the bar we bought was the hardware. One of the bolts for putting together the bar had no threads! A simple double-check of the parts would have caught this. Even worse was the mounting hardware. If you for some reason end up buying this bar, DO NOT USE THE MOUNTING HARDWARE provided. The screw anchors we received were NOT REAL SCREW ANCHORS. The teeth that are supposed to extend once the screw is in place are essentially FAKE. They do not extend outwards as they would on a proper achor - they do not move at all - they are fixed in place (*see picture). The result is that you cannot fit the anchor into the drill hole without making the hole too big and thus making the anchor completely ineffective (on a proper anchor the teeth are folded in when you insert it into the drill hole and only extend outwards after you put the screw in, thus anchoring into the wall). In short, the anchors are completely UNUSABLE. The screws they provided us were short wood screws! Even if the anchors worked, the screws would be too short to properly engage the teeth and peel apart the end of the anchor. The fact that they are wood screws means that they won't fit snugly against the mounts because of the coning on the screw head. As for the mounts, they are cheap, flimsy metal. Unless you have very thick walls making the fit of the bar extremely tight (one side hooks into the mount on the back of the doorway and the other side presses against each side of the front of the doorway), the mounts will bend away from the wall on your first use (*see picture). The pressure on the bar forces it down and foward. The foward force is taken up by the front of the doorway where the arms of the bar rest against it, but unless the fit is very tight, as described above, the forward force will end up bending the mounts. As for the bar itself, the craftsmanship is shoddy. One of the bolt holes was not properly cut out and I had to knock it out with a hammer and chisel. The parts are not well machined and do not fit snugly together. If you for some reason end up buying this bar, you will at the very, very, very, least need to go out and buy a new set of screw anchors and screws. The ones we received simply will not work. You should also try to find alternate mounts. Perhaps we got a bad batch, and they use different suppliers for the hardware at different times, so you might get lucky. But I wouldn't risk it. Obviously, I do not recommend this product.
October 16, 2011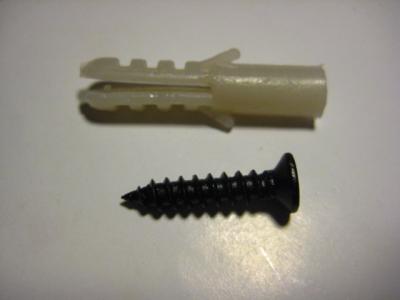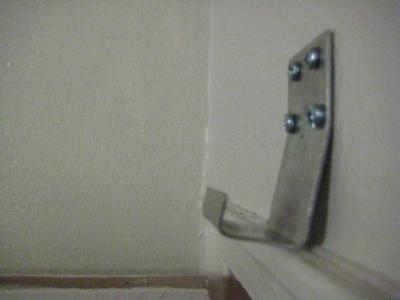 100% Satisfaction Guaranteed Or Your Money Back (less s&h)
To order by phone, call toll free: 1 (800) 998-1681


Mon-Fri 9 AM-7 PM, Sat-Sun 10 AM-6 PM ET