The most durable pull-up bar ever made!
Built for durability and comfort, this is the ultimate muscle fitness training tool to strengthen and develop your shoulders, back, arms, and abs, and more. There's no better way to take your upper-body workout to the next level.
The P90X® Chin-Up Bar mounts easily to any doorframe to become your own personal gym. The custom design with 12 grip positions makes this the perfect tool for chin-ups and pull-ups.
Special features include:
Custom design with multiple grip positions for building multiple muscle groups
Heavy-gauge steel (holds up to 300 lbs.) Stress Test Video
Professional-grade foam-covered handles provide maximum comfort for extended use
Quick and easy assembly
Fits doorways up to 32" wide (sturdy doorframe with trim required—minimum 5" width, maximum 6.5")
Takes only minutes to safely remove from doorway when not in use
P90X Chin-Up Bar for only $59.85
(+$14.95 s&h)
P90X Chin-Up Bar Customer Reviews
Rated

3.2

out of

5

 by

83

reviewers.
Rated

5

out of

5
 by
Shrapnelhalo
Awesome and durable but doesn't fit all doors
I have about 3 doors in the house this fits on so I'm still able to do what I need to do. I weigh 195 and it supports my weight without the brackets. It was easy to set up and it only took me like five minutes to put together.
July 5, 2011
Rated

1

out of

5
 by
CJWiggins
Looks really durable - if you can mount it
Overall it seems like a solid piece of equipment, but if you have ANY SORT of "unique" doors/molding (i.e. found in an older house) it probably won't work for you. Specs/directions leave quite a bit to be desired - the distance recommended to space out the two brackets (13.75 in) isn't even possible as then the brackets would be right on top of the upper grips. And they don't indicate if you should put the bottom of the brackets flush with the molding (but if you don't, the brackets bend away from the wall when you put any sort of weight on it). If you're lucky enough to have the right door, it'll (probably) work well. If you don't - it's a waste of money.
June 28, 2011
Rated

4

out of

5
 by
Steve P
Good Value
This chin up bar was easy to put together and easy to install & remove from the doorway. I weigh 170lbs and it feels very sturdy while in use.
May 14, 2011
Rated

5

out of

5
 by
Dave P
Measure before you order!
The dimensions given on the site do not mention the height of your door trim above your door. Mine is 6.5 inches thick, and the bar will not fit. It is good quality, but measure carefully before you purchase. It also costs a ton to ship it back because of the length of one of the pieces...
April 27, 2011
Rated

5

out of

5
 by
Flah7
Doesn't fit door frame
If you have an older model home the chin up bar won't fit in the thicker door frames. The door frames are too wide (depth). The doors in the farm house are also too narrow. If it fit I'd use it. It feels durable, well made and solid. they do give options to use the bands instead of the chin up bar, but it would be nice to measure progress by being able to accomplish pull-ups/chin ups
April 19, 2011
Rated

5

out of

5
 by
D.D.
Make sure your doorway is strong!!
First of all this pull up bar is flat out SOLID!! I'm 315lbs & this thing carrys my weight flawlessly. But my doorway is solid too. So for those who doubt getting this, just make sure your doorway is solid & stable. Otherwise you will run in to problems, not with the pull up bar but your doorway. This thing is made with thick gauge steel so it will handle the punishment. Really worth the purchase!!!!
April 9, 2011
Rated

5

out of

5
 by
Lil' Diddle
Love it!
Easy to assemble and use! Very happy we have this bar!
March 26, 2011
Rated

2

out of

5
 by
Jason
Needs to be adjustable for wider doors
The biggest downfall of this product is the door width requirement. If it was adjustable like the Perfect Pull-Up this wouldn't be an issue. All the doors in my apartment are 36 inches wide, thus I cannot use this product here. I could possibly fit pieces in the ends to make it wider but it wouldn't be as sturdy. The Perfect Pull-Up is much cheaper now and has an adjustable width so I'll not only be returning this but I may be going with that product as well if my landlord okays the install otherwise it's bands only for me. I can't honestly rate durability since I can't use it here.
March 17, 2011
Rated

3

out of

5
 by
pitbbass
Sturdy bar, but...
The pull up bar is sturdy and as they say, and it looks like it will handle my body weight safely according to their test video. But.... I live in an old home with plaster walls, not wall board. Around the door frames is not the modern narrow clam shell trim, but trim which is at least 4 inches wide with back banding that juts out another 3/8 of an inch. This bar will simply not fit without the ability to further extend it from its 6.5 inch door frame thickness stated as the limit on the web site. The "L" distance needs to be 7 3/4 inches and the hanging brackets mount on the face of the trim, not into the wall board as the design intends. The manufacturer should provide slightly longer "L"s as a remedy when necessary, or qualify at time of order to ship the right size. I also agree with other reviews that damage to the door trim is inevitable without protection between the side extending bars and the frame.
March 8, 2011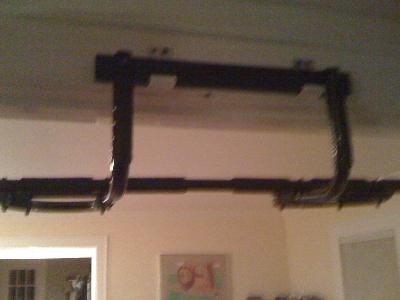 Rated

4

out of

5
 by
P90X Grad
Glad I got this !
The overall quality of this bar is really good. I started using it during my second round of P90X (used the bands in the doorway the first time). The bar is very sturdy when mounted and I love the different hand positions. It's helped me make huge improvements in my strength. I can knock out pull ups and chin ups like never before now where I was lucky to be able to do 2 or 3 when first starting out. My only disappointment is in the quality of the foam rubber hand grips. The padding is too thin in my opinion to hold up over time and several of the grips on my pullup bar ripped after only a few weeks of using the bar. Hopefully that feature can be improved in the future but even so, I still recommend it for P90Xers!
March 5, 2011
100% Satisfaction Guaranteed Or Your Money Back (less s&h)
To order by phone, call toll free: 1 (800) 998-1681


Mon-Fri 9 AM-7 PM, Sat-Sun 10 AM-6 PM ET