P90X Chin-Up Max
Go For Max Chin-Up Reps!
Get help doing more chin-ups!
Designed to be used with the P90X® Chin-Up Bar, this advanced training tool gives you an adjustable amount of lift so you can work your way up to doing more unassisted chin-ups and pull-ups. Use it to build strength, improve technique, and push your results even further. If you currently struggle to do chin-ups, it will assist you to do them. And if you're advanced, it helps you to add additional reps after your muscles fatigue.
The Chin-Up Max adjusts for the right amount of resistance to help you get the most out of your upper-body workouts. (Used in P90X and INSANITY: THE ASYLUM®)
Special features include:
Easily adjustable resistance levels
Safety hook
Non-slip foot stirrup
Heavy-duty buckle for safety and support
* This Beachbody product contains natural rubber latex which may cause severe allergic reactions.
P90X Chin-Up Max Customer Reviews
Rated

4.7

out of

5

 by

20

reviewers.
Rated

4

out of

5
 by
Tai
Great Idea
I agree with those who write about the bands wearing out. I like the idea of hooking up to the bar, so I purchased some wodfitter bands (40in) tied some knots and replaced the worn beach body bands. I could not find that BB had replacement rubber bands and the Wodfitter bands have different strength bands. So... back to the bar. At 6'2" and 230lbs I need the assist, so I'm grateful they have this product. If you like doing pull ups give this a go.
September 16, 2016
Rated

4

out of

5
 by
Rambler
Good product, wish bands could be replaced
My wife uses this (wt. 125 lbs and used 1-2 workouts per week). It works well and we have been happy with it for the amount of use its gotten, but after about three years the middle band broke at the bottom end. It would be nice if we could purchase a replacement band rather than having to buy a new unit.
April 27, 2016
Rated

3

out of

5
 by
trying2bfit
Cool idea...Bands broke in less than one year.
Bought this and used it for awhile. Cool idea, but the bands broke in less than a year. No way to buy replacement bands.
January 27, 2016
Rated

5

out of

5
 by
clevrgrl
Does what it says!
I love this product. I find chin-ups/pull-ups harder with this than with a chair assist, and I can make it progressively harder as I get stronger. I've been using it for over a year now and it's showing some signs of wear now, but nothing that would make me think that I won't be using it for another year.
July 1, 2014
Rated

5

out of

5
 by
smalloy
Much better than a chair
I am good for 8 - 12 pull ups before I max out. I felt like my chair was too high and I didn't have a better solution so I Googled what others did and came across this. This is a must have in my opinion to get to more pull ups and eventually stronger to do more with out it. No more chair for me and I feel like it's safer as well.
April 21, 2014
Rated

3

out of

5
 by
Pyros
Bands break
I have had these bands for 2 years. I use them every week. I am 6'3" and weight about 220. In the last month 2 of the bands have broken on me.
July 4, 2013
Rated

5

out of

5
 by
MR. X
Works Amazingly!
It helps you unbelievably well! I can do only three pull ups, but with this, I can do 10!
February 10, 2013
Rated

5

out of

5
 by
Lucia314
Great Assist for Women
P90X and P90X2 have greatly enhanced my athleticism and even increased my abilities in dance and pilates. Pull-ups had been the most intimidating aspect of these programs. I had the P90X chin up bar and made do with a chair to assist. FINALLY, I now have the Chin Up Max. What a difference! I love the greater range of motion. I feel powerful when using this. The adjustabilty is great too. I highly recommend this product for anyone who feels their pull-ups need assistance. This will make all the difference.
November 24, 2012
Rated

5

out of

5
 by
SuzJStein
REALLY helpful!
This product is a godsend - no need to fuss with chair-assisted pullups/chinups - just hook this thing onto the bar, and away you go! Looking forward to the day when I can do the exercises completely unassisted, but until then... this is the way to go. Highly recommend.
May 8, 2012
Rated

5

out of

5
 by
Muc
Works amazing
The best pull up assist I have ever seen. My wife uses it and loves it. 10/10
April 27, 2012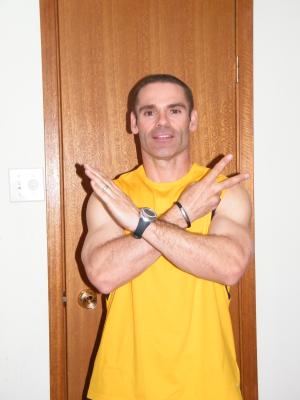 100% Satisfaction Guaranteed or Your Money Back (less s&h)