The Beachbody team is dedicated to providing our customers with reasonably priced in-home fitness products of exceptional quality. Beachbody looks for new ways to motivate and educate consumers about health, fitness, and the benefits of maintaining a lean body by crafting and offering products that have been thoroughly tested and proven to work. Beachbody also offers a line of fitness accessories and nutritional supplements to help achieve healthy, maximum results.
Beachbody products include:
---
Wouldn't you love to spend more quality time with your family? Doing something that's fun but can also make fitness part of your everyday life? Now, you and a partner can get in shape with Double Time, Beachbody's first-ever partner workout program! Legendary Super Trainer Tony Horton has always wanted to create a fitness program that helps people connect—whether it's couples, family members, or parents and their kids. Double Time is Beachbody's first workout program designed to help two people get in better shape together. It has everything you need to successfully complete the full 30 days—the built-in support of your partner, Tony's signature resistance and cardio moves, proven weight-loss techniques, and his super-motivating teaching style.
---
Ready to reinvent yourself? The SHIFT SHOP is a breakthrough rapid-rebuild program that helps you see maximum results in minimal time—regardless of your age or fitness level. The SHIFT SHOP uses a "ramp-up" method that starts you off slow—then gradually increases the intensity week by week—all while refining your nutrition. The results? Stunning.
---
See how easy and fun it is to get moving and adopt healthier habits with YOUv2. Expect to have lots of fun every time you press play with feel-good party tunes, an incredible group of ladies of all shapes and sizes, and Leandro's inspiring motivation. Simply follow Leandro step-by-step in 4 super-simple cardio-dance routines and tighten and tone with 2 body-sculpting workouts. There's no equipment needed. All you need is YOU.
---
Are you ready to fight for it? Then join super trainers Joel Freeman and Jericho McMatthews for the ultimate mixed martial arts-inspired workout, CORE DE FORCE. CORE DE FORCE is unlike any other workout we've created. Combining MMA combinations, bodyweight moves, and cardio spikes, you can slash inches off your waist, blast belly fat, and carve total-body definition—without equipment—in just 30 days.
---
Looking for a simple, no-nonsense workout that delivers salute-worthy results in just 22 minutes a day? 22 MINUTE HARD CORPS is Tony Horton's quick, intense, military-inspired workout program. His mission? To get you "Boot Camp Fit" in just 8 weeks. This is no designer workout—all you have to do is show up…keep up…and get in the best shape of your life. Are you with us? Then fall in…and get ready to watch the pounds fall off.
---
Forget everything you dread about workouts. Because starting today, exercize isn't something you have to do. It's something you'll want to do.

Beachbody® is about to show you how to dance your way to fit in just 4 weeks! Let loose your inner dancer as you learn the hottest professionally choreographed dance routines. You'll be so focused on mastering the moves and having a blast, you'll forget you're working out—and losing weight!
---
From pre-workout energy, during-workout hydration, post-workout muscle recovery, to first-of-its-kind nighttime muscle recovery—Beachbody Performance helps give you better endurance and stamina…the focus to push harder… and even promotes faster muscle growth and recovery. It supports your body around the clock so you can keep crushing your goals day after day. Because every additional minute, and every extra rep, gets you that much closer to making your dream body a reality.
---
Extreme Fitness. Simple Eating. Serious Results.
When you absolutely, positively need to get lean and defined in the shortest time possible…21 Day Fix EXTREME is the way to do it.
Give it all the guts, intensity, and drive you've got for 21 days—and you WILL get that hardbody you've always wanted.
The workouts are short, but they're extreme. The eating plan is simple, but there's no room for treats or cheating. It's a serious 21 days. But stick with it, and you'll walk away with serious results.
---
Fitness expert Tony Horton is back to give exercise enthusiasts and graduates of Power 90® their postgraduate work with P90X.
These workouts are not for beginners. Through 12 comprehensive and invigorating routines on video, P90X challenges participants by tapping into weight training, synergistic and core training, yoga, plyometrics (also known as athletic jump training), Pilates, Kenpo karate, stretching, and abdominal work. The 90-day program turns the challenge up a notch for those already in good shape, allowing them to further define muscles they've already started to develop while helping them discover muscles they didn't know they had; it also includes one of the most comprehensive diet guidelines ever offered for individuals in training.
And now with the P90X® App for iPhone®, you can stay accountable, motivated, and get even better results with P90X.
---
The 3-Day Refresh will help you lose weight fast. But it does something even more important—it helps build your fat-burning metabolism. By nourishing your body and helping you break the cycle of bad eating habits, it can help you go on feeling those benefits for weeks to come.*
---
Who says you have to jump, grunt, strain, and punish your body to get serious results from your workout. With PiYo®, Chalene Johnson combines the muscle-sculpting, core-firming benefits of Pilates with the strength and flexibility advantages of yoga. She cranks up the speed to deliver a true fat-burning, low-impact workout that leaves your body looking long, lean and incredibly defined. No weights. No jumps. Just hardcore results. You won't have to hold poses or do dozens of repetitive, microscopic core movements. You'll perform dynamic, flowing sequences that incinerate calories at the same time as they improve your flexibility and build long, lean muscle. No matter your age, no matter your body type, PiYo gives you dramatically visible, incredibly beautiful results.
---
Get serious about getting big. Body Beast® is the first and only all-encompassing bodybuilding, nutrition, and supplement system on the market. Created by Sagi Kalev, a renowned trainer of world-class bodybuilders, this program fuses the best of old-school bodybuilding with the breakthrough sports science of Dynamic Set Training™.
Body Beast uses increased resistance and exercises done at unheard-of angles to exhaust your muscles, recruit more muscle fibers, and even increase testosterone levels.
You'll get 12 extreme muscle-building and growth-inducing workouts. Plus, the Book of Beast includes a three-phase eating plan that teaches you how to eat like a competitive bodybuilder. Add our line of four high-performance supplements specifically designed for Body Beast, and boost results even further.
---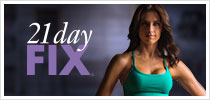 Now there's an easy-to-follow nutrition and fitness program that makes losing weight incredibly simple and fast. With 21 Day Fix you'll discover how to combine simple portion control with 30-minute workouts for amazing weight-loss results.
Trainer Autumn Calabrese developed a series of world-class, results-driven workouts and partnered them with a simple portion-control container system to take the guesswork out of weight loss. As a national bikini competitor, fitness trainer, and busy mom, Autumn understands the importance of short but effective workouts and simple, healthy nutrition. With 21 Day Fix, she's created a program that works for people of all fitness levels and fits easily into everyone's life.
---
For busy people who don't have time to work out, these quick and effective 10-minute routines by Tony Horton guarantee amazing results. With Tony's breakthrough Super Stacking Technique™ using resistance bands, you'll get your fat-burning cardio, total-body toning and sculpting, and abs workouts all at the same time—in just 10 minutes! Not a second is wasted!
Besides four incredible 10-minute routines that work your body from head to toe, 10-Minute Trainer also comes with a pro-grade resistance band kit that includes Tony's Power Cardio Belt to add extra resistance for burning more fat and calories, an easy-to-follow exercise plan for your best results, a customized workout calendar, a meal plan with recipes that can be prepared in less than 10 minutes, and three FREE gifts, including a bonus abs routine, pocket-size workout cards, and an accelerated eating and exercise plan that will have you in your skinny jeans in just 10 days.
---
Created by fitness expert Chalene Johnson and her professional team of group exercise experts, nationally ranked kickboxers, black belts, and competitive Olympic fighters, Turbo Jam has fast become one of the most popular fitness programs in the nation. This supercharged, fun, cardio-dance, kickboxing workout effectively strengthens and sculpts the entire body, focusing especially on the abs, and can be done by anyone at any fitness level.
Turbo Jam includes an instructional video demonstrating Chalene's "Elite 11" easy-to-follow signature moves, an intensive 20-minute workout for those short on time, a sculpting video, and a high-energy cardio workout—all featuring the hottest dance music to inspire and motivate participants. To supercharge your results, you also get FREE Turbo Sculpting Gloves and an advanced kickboxing workout. Nutritional guidelines, an accelerated 10-day diet and exercise slimming plan, and expert online support all guarantee optimal results.
---
Fitness expert Debbie Siebers developed Slim in 6 out of her own frustration with weight control and body image. Through a combination of cardiovascular, calisthenic, and weight-bearing exercises collectively called Slim Training®, this three-phase, 6-week slimming program helps shed pounds quickly in a healthy manner and jump-starts the body onto the path of long-term health and fitness.
Besides the three main workouts, you'll also get an advanced abs routine and a flexibility workout for your day off, plus a motivational calendar, a step-by-step nutrition guide, and a guidebook full of tips and tools to help you get the most out of your program. To burn fat and tone muscle even faster, you'll get a FREE Slim Training Band and a 6-day diet plan to help you lose up to 6 pounds in your first 6 days.
---
Choreographer to the stars Shaun T brings his exclusive dance moves in this groundbreaking program that burns fat off your entire body! With dance-floor favorites like "Holiday," "Don't Stop 'Til You Get Enough," and "I Love Rock 'N Roll," Shaun T will have the pounds melting off. Even if you think you can't dance, Shaun's breakthrough Mark It and Move It technique will have you center stage in no time.
Rockin' Body contains five amazing workouts, so you can get maximum results without ever getting bored. Plus, Shaun's Never "Diet" Again guide will help you make the right eating choices every day and his pocket party guide will help you learn what you can eat and drink when you're out on the town. And the special 3-Day SlimDown plan will jump-start the program so you can see visible results in just 3 days—guaranteed!
---
Chalene Johnson continues to challenge fitness enthusiasts with her program ChaLEAN Extreme, a proven three-phase system focused on resistance training and the principle MUSCLE BURNS FAT®. Each phase of the program lasts 30 days. In the first, called the Burn Phase, your goal is to push your muscles to exhaustion. Next, in the Push Phase, you focus on intense lean muscle development. In the final Lean Phase, you work your upper body, lower body, and core all at the same time, to really see major fat loss. Consisting of 15 workouts on 6 DVDs, ChaLEAN Extreme also includes a Muscle Burns Fat Guidebook and Fat Burning Food Guide to help you burn up to 60% of your body fat in just 3 months!
---
For Global Product Licensing Inquiries, please contact:
UNIVERSIFY Pte. Ltd.
www.universify.com
Phone : +1 877 400 4392
Email : sam@universify.com