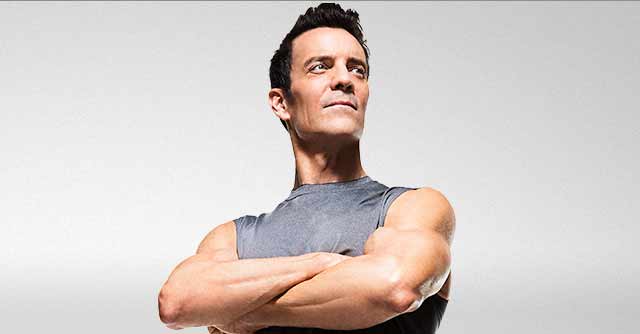 Tony Horton
Elite Trainer and creator of the
#1

home fitness program of all time!

Over the past 25 years, elite trainer Tony Horton has revolutionized the fitness world by helping millions of people get ripped and get healthy through his world-renowned total-body workouts. These groundbreaking programs are among the most popular home workouts ever, selling a combined total of more than 7 million copies and counting!
---
Always on the cutting edge of sports science and nutrition, he's a trainer who knows how to get results. Today, people all over the world —from athletes and movie stars to members of the military and Congress—can credit their improved stamina, strength, and extreme body transformations to Tony Horton.
---
It all began with Power 90®, which offered an easy-to-follow, in-home workout to those just starting their fitness journey. Then, in the first workout of its kind, P90X® pioneered the category of extreme in-home fitness by helping a whole generation get lean and ripped in just 90 days—no expensive gym membership necessary. He followed up his success by dialing up the intensity of his extreme workouts in P90X+®. Then, in P90X ONE on ONE®, he offered fitness junkies a series of unscripted, plateau-busting personal training routines, all of them shot right in his own home gym.
With P90X2®, he brought pro-level athletic training into the home. Then, by creating P90X3®, he helped people transform their bodies working out just 30 minutes a day. And with P90®, he created a simple, doable 90-day program that would help anyone—at any fitness level—achieve exceptional results.
Even the military has benefited from Tony's fitness expertise. He regularly visits bases around the world, having worked with the Pentagon and Armed Forces Entertainment to help develop stronger, healthier troops. In fact, Tony's fitness program, 22 Minute Hard Corps™, uses quick, no-nonsense, total-body workouts to help anyone get "boot camp fit" from head to toe.
But in true Tony fashion, he was far from done. Having always wanted to create a program that helps people connect in a healthier way, he created Double Time™. It's his first partner fitness program designed to help two people (like spouses, friends, or parents and their kids) get fit and adopt a healthier lifestyle as a team!
Tony Horton has been featured in numerous publications including Men's Fitness, Fitness, SELF, The New York Times, The Wall Street Journal, People, and Women's Health; and he has appeared on national television shows such as the Today Show, Good Morning America, Piers Morgan Live, and The Dr. Oz Show. He's also the author of three best-selling books, Bring It, Crush It, and The Big Picture: 11 Laws That Will Change Your Life.
Whether you want to get extreme results, recharge your current workout routine, or just start the journey to a healthier life, Tony Horton has a program that will help you reach your goals.
---
---