Sleep in Thanks to This Make-Ahead Brunch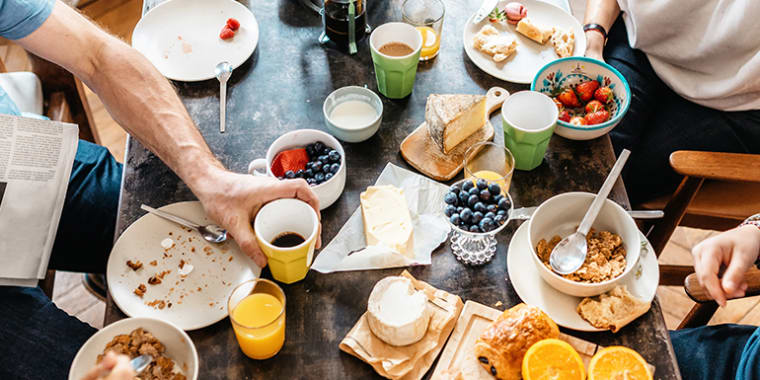 The holidays are stressful enough without having to wake up and cook a gourmet brunch for your friends and family. This year, instead of rolling out of bed in the dark and spending three hours flipping individual omelets for your guests, follow this simple plan for a delicious, low-effort make-ahead brunch that'll have all your guests feeling warm and fuzzy.
An hour or two of smart prep the day before means you can sleep in and enjoy your morning brew without interruption (and maybe squeeze in a workout!). If that isn't a happy holiday, we don't know what is.
Start Your Make-Ahead Brunch Days Before the Holiday
Step 1: Plan your brunch menu.
Choose which recipes you'll make, and familiarize yourself with their ingredients and instructions. The key here is to choose easy dishes that keep well overnight in the fridge. Anything that needs to be served immediately after cooking or that gets soggy when left out is a no-go (we're looking at you, scrambled eggs).
Paige Bente, M.S., R.D., and Beachbody Nutrition Manager, recommends one of three options: 1) a cold brunch (like whole-grain bagels, lox, and cream cheese — or lighter Neufchâtel cheese) that you can plate the night before, 2) an oven dish (like frittata or quiche) that you can reheat or bake the day of, or 3) something that can be made in a slow-cooker (like oatmeal) and set on a timer.
There are endless menu options for a healthy and satisfying holiday brunch (see the end of the article for our recommendations), but today we're showing you how to make a savory Spinach and Broccoli Strata, chopped fruit salad, and decadent, low-calorie Chocolate Peppermint Muffins — because even brunch needs dessert, right?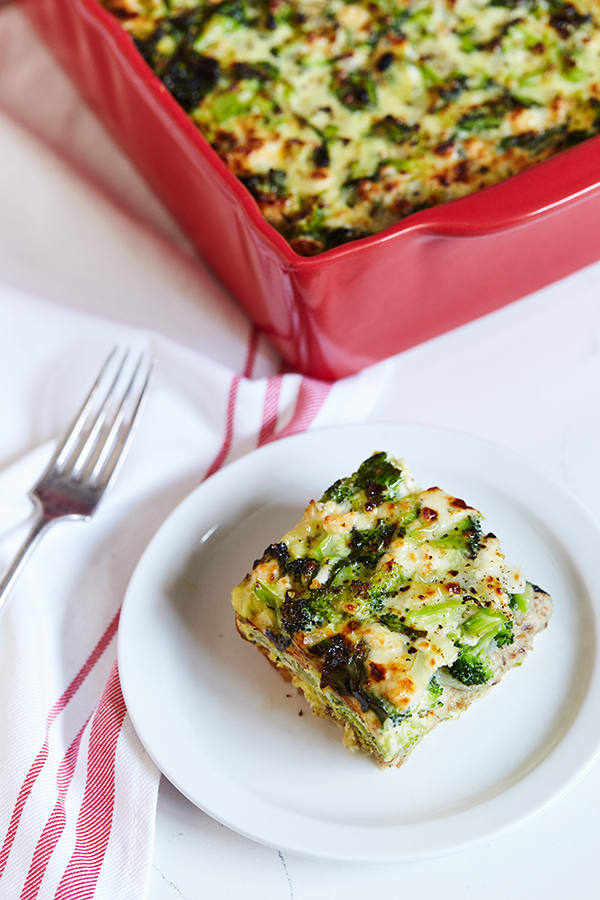 Step 2: Go grocery shopping.
A few days before the holiday, check your recipes to see which ingredients you have already and make a list of those you'll need to stock up on. Don't forget extras like decorative garnishes, ice, or paper plates and napkins if you're keeping things casual.
Use our egg strata recipe as a starting point, and decide if there any extra veggies you'd like to pack it with. Consider adding grape tomatoes, mushrooms, or even asparagus to your shopping list.
For your fruit salad, pick seasonal fruits like oranges, mandarins, pears, kiwis, pomegranate seeds, and apples. You can leave your salad bare or dress it with a mix of fresh lemon juice and honey.
Remember to include drink necessities. Keep it simple and stock up on coffee, tea, orange juice, apple cider, or maybe even a bottle of bubbly for mimosas. If you're an overachiever and have the extra time, try one of these fancy sparkling cocktails or whip up one of these healthy holiday drinks.
Step 3: Chop and prepare ingredients.
The day before the festivities is when you need to hunker down in the kitchen and let your multi-tasking talents shine.
First, turn on your oven and start mixing ingredients for your chocolate peppermint muffins. Once you put your muffins in the oven to cook, start steaming broccoli and sautéing onions and garlic on the stove for the strata. Once you've added those to the egg mixture, cover it and leave it in a bowl in the fridge. Cut the bread into cubes, and tuck them into an airtight container.
After you take the muffins out of the oven, let them cool for 10 minutes before arranging them on a serving platter and covering with foil. Keep these in a cool, dry cabinet overnight.
Lastly, peel, slice, and chop your fruits, then combine them in a serving bowl or platter. To prevent apples and pears from browning, Krista Haynes, R.D. and Beachbody Nutrition Manager, recommends squeezing lemon juice over them and stirring before combining them with the other fruits. Cover the salad with a lid or plastic wrap and put it in the fridge.
"Also, be sure your fridge is set colder than 41 degrees Fahrenheit to prevent bacterial growth," says Haynes.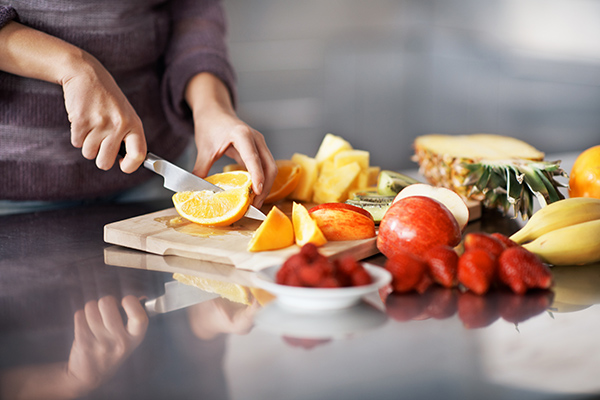 Step 4: Set the table and lay out your dishes.
The key to a calm holiday morning is having everything ready to go, including your table set-up. Make sure your dishes, cups, silverware, platters, and serving utensils are washed and ready to go. Then break out your tablecloth, napkins, centerpiece, and decorations to set the table exactly how you like it. Don't forget to set out salt and pepper shakers and a butter dish just in case.
If you're hosting an informal, buffet-style brunch, clear a space on a table or counter to put the hot food, then stack your plates and gather your silverware together.
Step 5: Set up a drink station.
Keep things easy and set up a DIY drink station near the coffee maker. Put out an empty ice bucket to chill juice and champagne, then line up your mugs, glasses, and champagne flutes. Include tea bags, honey, sugar, a pitcher for milk, and small bowls to hold garnishes like lemon slices and pomegranate seeds.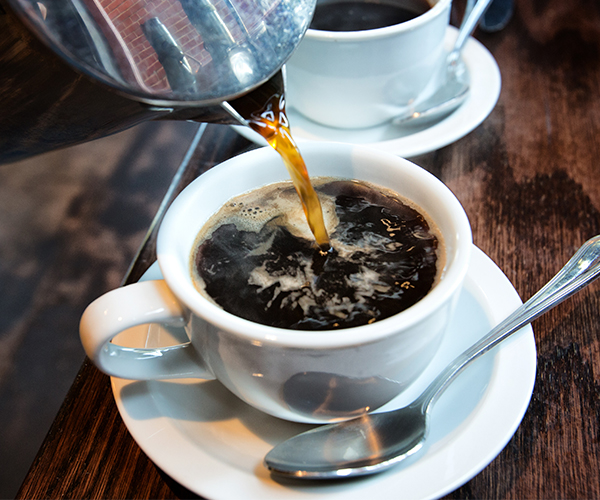 How To Finish Your Make-Ahead Brunch The Morning Of:
Step 6: Bake the egg strata.
After leisurely sleeping in, or enjoying some quality time with your family, drag your pajama-clad self to the kitchen and switch on the oven. Fill a 3-quart baking dish with bread cubes and cheese, pour the egg and veggie mixture over it, cover with foil, then pop it in the oven to bake. Budget for an extra 5 to 10 minutes to cook your strata since it was chilling in the fridge overnight. You'll know it's done when the eggs have puffed up, are lightly browned on top, and the strata doesn't wiggle in the middle when you shake the dish.
If you got even farther ahead and cooked the strata the night before, make sure you reheat your dish to an internal temperature of 160 degrees Fahrenheit to prevent food-borne illness, says Bente.
Step 7: Do the finishing touches.
While you wait for the strata to bake, get everything else is ready to go. Start a pot of fresh coffee, set out your chocolate peppermint muffins, fill your ice bucket with ice, and organize the drinks at your beverage station. Don't forget to put out milk (whole, almond, or whatever milk alternative makes you happy), cinnamon, fresh lemon wedges, and fun extras like pomegranate seeds to float in your mimosa.
Next, take out your fruit salad and add any last-minute ingredients (like banana). To sweeten it, stir together three tablespoons of lemon juice and two tablespoons of honey, then drizzle the mixture over your salad and lightly toss it until every piece of fruit is coated. If you want to jazz up your dressing, you can add chia seeds, sprigs of mint, a dash of cinnamon, or orange zest. Instead of dressing your fruit salad, you can also serve it with a lightly sweetened yogurt dipping sauce.
Step 8: Serve your delicious brunch.
Once the strata has finished baking, you're ready to sit down and enjoy your meal. Cut the strata into squares, serve each guest a hearty slice, and dig in. Bon appétit!
More Healthy Make-Ahead Brunch Recipes: